USA Four Corners Tour: Four friends' amazing ride | Columnists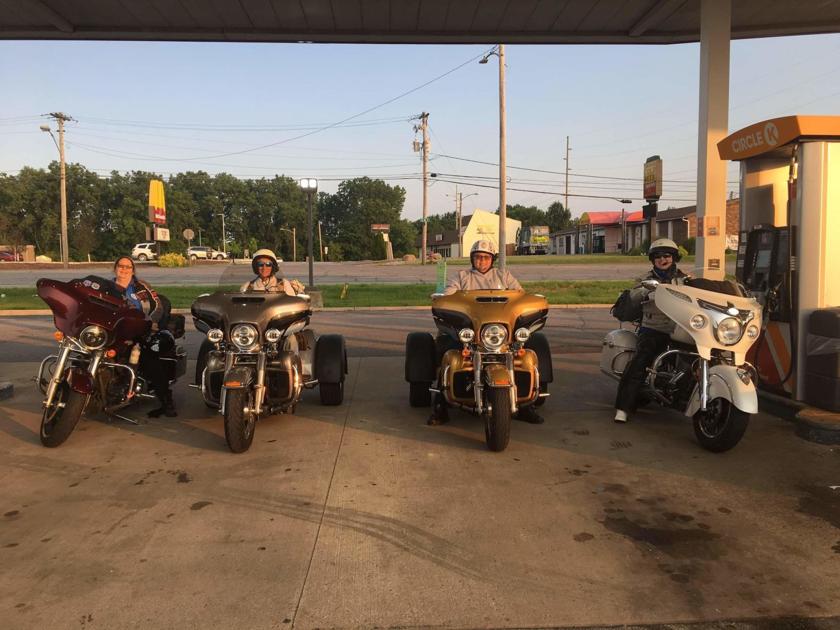 In July, four friends passed the four corners test.
What are the "four corners"? The four corners are the four most extreme locations in the northwest, the southwest, the southeast and the northeast of the continental U.S.
Everything about their motorcycle test of speed and endurance — organized by the Southern California Motorcycling Association — is amazing.
The youngest of the four Motor Maids — Mary Lee, Beth Pickett, Julie Starkey and Roxanne Fike — is 57.
From their first corner, the test allowed 21 days for completion. They did it in 17.
———-
They left northeast Indiana July 3 but the test did not begin until they were at their first corner, Blaine, Washington. It was 2,828 miles to Blaine from Roxanne's house, east of Avilla, on Baseline Road in DeKalb County.
July 8 was the day their countdown from Blaine began.
They arrived at their next corner — San Ysidro, California — immediately north of the U.S.-Mexico border — July 12, and were 4,104 miles from Roxanne's home.
On July 19 they reached Key West, Florida, 7,274 miles from Roxanne's home.
They reached Madawaska, Maine, the fourth corner, on July 24. "Our families tracked us," Roxanne recalled. "We were very close to Canada several times (on their way to and from Madawaska)."
———-
For the contest, they rode 9,461 miles. But counting the journey to Blaine and then the trip home from Madawaska, they totaled 10,746 miles, arriving back home in Indiana July 27.
They rode through rain and hail and battled high winds. South Dakota's cross winds topped 40 mph. "Physically, it was very difficult to stay upright," Roxanne said. "We did great."
Sometimes they rode in moonlight to avoid temperatures as high as 120 degrees.
They rode through wildfire smoke in California, but they never felt unsafe.
They communicated using headsets on their helmets.
In Florida a fatality involving three semi trucks and five cars forced them to wait on the edge of the road for more than two hours. Roxanne used an umbrella for shade.
———-
The four Motor Maids were Julie Starkey of Auburn, the lead bike (2017 Harley Davidson Tri Glide trike); Beth Pickett of Portland, Indiana (2015 Harley Davidson Street Glide); Roxanne (2017 Indian Chieftain) and the tail, their blocker, Mary Lee of Fort Wayne (2017 Harley Davidson Tri Glide trike).
Required documentation included a picture taken with a landmark (such as the post office) at each location; gas receipts with name of town, total and date; and odometer readings. The USA Four Corners Tour, open to men and women and any type of motorcycle, is organized by the Southern California Motorcycling Association.
———-
Roxanne's father and her uncles all had motorcycles and so does her husband, Kenneth. She rode on the back of his but then she got an endorsement and started riding her own motorcycle with a friend.
A 1977 East Noble graduate (her maiden name is Ransom) she is in Extension Homemakers, a quilter and she used to judge 4-H and county fair competitions.
An Extension Homemakers friend, Margaret Menges of Noble County, told her about Motor Maids, Inc., with members in the U.S. and Canada.
"That was 24 years ago," Roxanne said. "I joined and never looked back."
———-
Overall, their bikes did really well and the women had no physical problems. They changed their oil every 5,000 miles. The only "panic" was when Julie's bike lost fluid in the clutch — right off the highway her bike stopped and it was very hot. They had to ride 100 miles — Julie without a clutch — to find a Harley dealer.
Temperatures ranged from 51 to 120 degrees. "When you ride, it feels like 30 degrees less so you have to bundle up," Roxanne said. "But the heat off the pavement is very hot." Roxanne is allergic to the sun so she was covered up the whole time.
———-
All their travel was on the interstate because they had to go fast. "Normally we take it slow on two-lane roads," Roxanne said, "and this was fast. It was so hot we decided to ride at night a couple of times. We rode through Los Angeles at night. Traffic was a lot better than if we had ridden during the day."
Often they took advantage of the diamond lane — the far left lane for cars with three or more passengers, buses and motorcycles. Therefore, they were not often stuck in traffic.
"Seattle was the best city ever to see downtown on the diamond lane and of course, Key West."
They left on July 3 and experienced fireworks all along the way. "We saw a lot of patriotism in the U.S. — that's for sure," Roxanne said. "We saw lots and lots of flags — large flags. Overall people are super nice. Of course we saw a lot of crazy drivers, but overall it was great."
For a while, in Los Angeles, they had to get off the interstate and were in the city. "It was early in the morning and we saw homeless people," Roxanne said. "We weren't frightened, but you are concerned."
They saw seven dead armadillos and one live one, in Florida. "It really is a beautiful animal," Roxanne said.
They also saw three dead red foxes and one Key deer (Key deer, found only in the Florida Keys, are smaller than regular deer, and endangered). Roxanne remembers seeing deer eyeballs reflected in the moonlight.
———-
Roxanne wanted to do the four corners with her husband, Kenneth, to mark their 35th anniversary, but he is not a long distance rider. They have two sons, Andrew and Matthew, and one grandson, Henry.
What is the prize for passing the four corners test? "We get a pat on the back and probably a plaque," Roxanne said.
But much more important: Roxanne realized a 15-year dream.
Roxanne Fike's sailing career began in 2008
In addition to motorcycling, Roxanne travels by sea.
Chef for a crew of 10 on a Merchant Marine vessel, she started sailing in 2008 and attended The Harry Lundeberg School of Seamanship.
She is scheduled to return to her ship (probably at Tampa, Florida) Aug. 24.
Normally, her hitches on the chemical tanker are 45 days on and 45 days off but when COVID hit they were confined to the boat until they could figure out what would happen. "They kept us 85 days when the pandemic first started," she said.
When her relief needed 60 days off, Roxanne worked for her "and the deal was when I needed time off to do this trip she would work for me."
They sail in U.S. coastal waters, regulated by the U.S. Coast Guard. A private company owns the vessel and they transport a wide range of cargo, ranging from fuel oil to components in fingernail polish remover to molasses for cattle feed.